5 Trends

That Are Increasing Productivity for Portable Restroom

Operators Today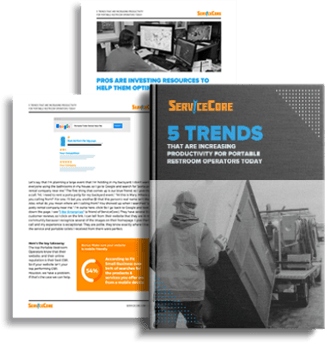 If you're a Portable Restroom Operator, you're probably busier than ever. You're working, and relaxing working, and vacationing working, and spending time with family working…. Am I right?
If you're taking the time to download and read this report, atta boy/gal! That means you're taking the time to work on your business instead of spending all of your time working in your business.

So how do the top Portable Restroom Operators work on their businesses AND enjoy more time with their family? Well, we wanted to know the answer to that too. So, we dug in, and what we found was that the top Portable Restroom Operators that worked on their businesses focused on finding ways to make it more efficient and productive.

But what did they focus on? We're glad you asked.

This report breaks down the top 5 trends that the most successful Portable Restroom Operators focus on today to make their businesses more productive.
About ServiceCore

ServiceCore Cuts Wasted Time and Increases Productivity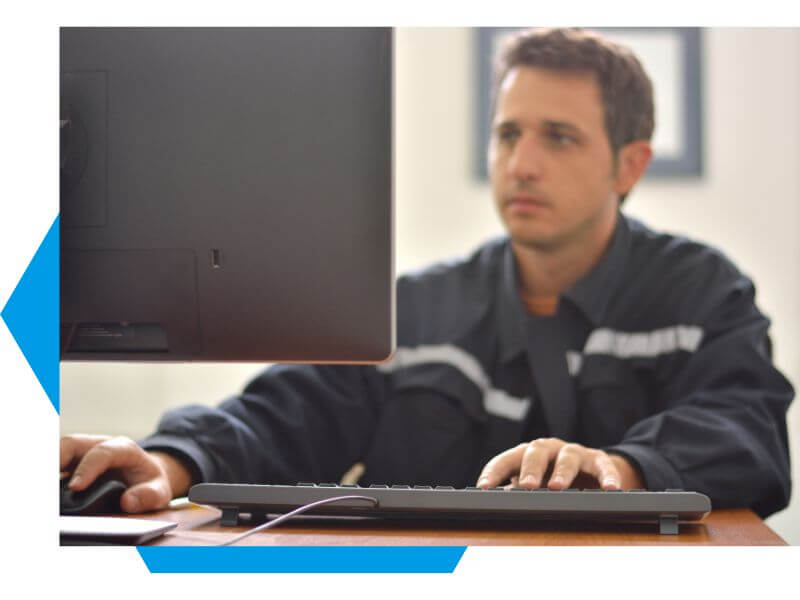 Manage Customers & Jobs Faster
In ServiceCore you'll spend less than 5 minutes entering a new customer and creating an order—all from one screen. And, you'll always have your customers' information at your fingertips. That's every job, invoice, route, note, etc.
Get Rid of Billing Headaches
Portable toilet operators waste more time billing customers than any other part of the business. That's why we created ServiceCorePAY. You can bill all of your open invoices each day in minutes with just a few clicks. You'll get paid faster, reduce past due invoices to nearly zero, and allow your staff to work on more productive parts of the business.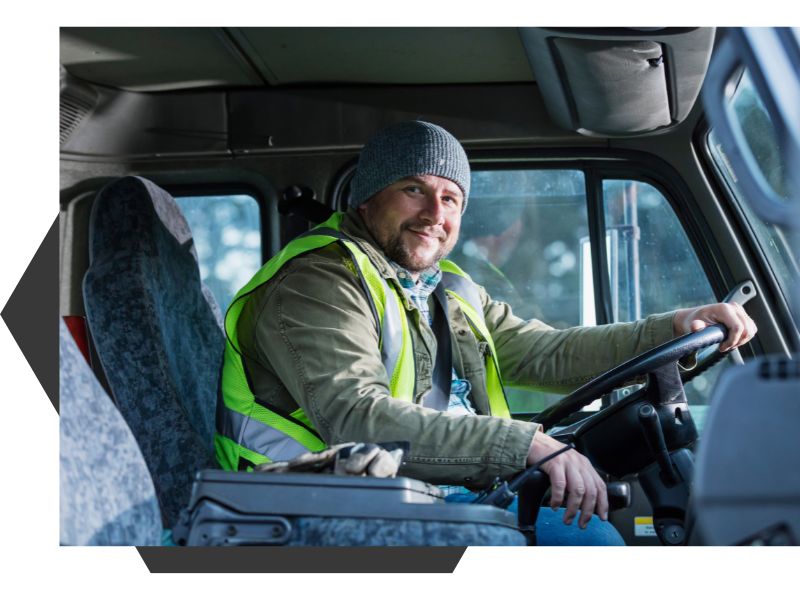 Optimize Routes Automatically
ServiceCore takes the guesswork out of running routes and scheduling jobs. You'll cut wasted drive time, save on fuel costs, lower driver overtime, and be able to add more jobs to each route. ServiceCore tracks the location of drivers in real-time. You'll know as soon as a job is completed!
Effortlessly Manage Inventory
ServiceCore makes it easy to manage your portable toilets, hand washing stations, luxury restroom trailers, and more. You'll know the location of every unit! And you'll know how much inventory you have today or in the future, and when it was last serviced.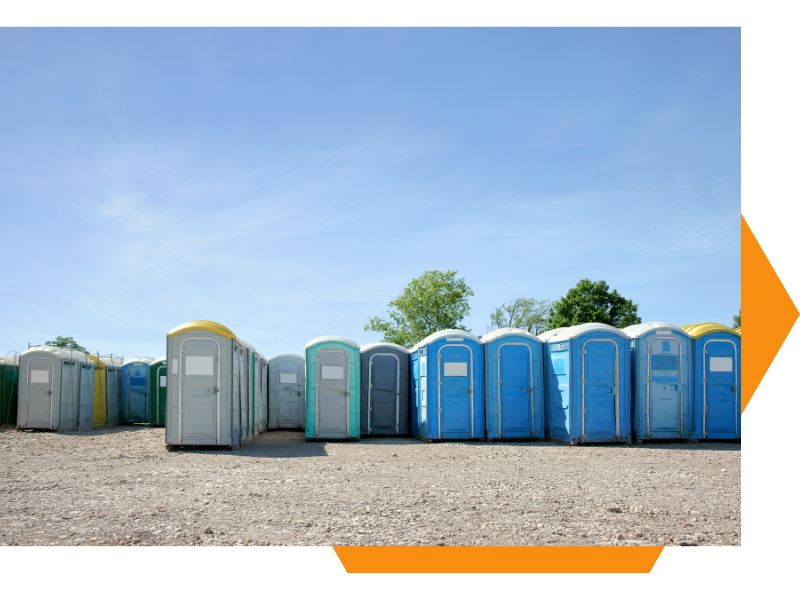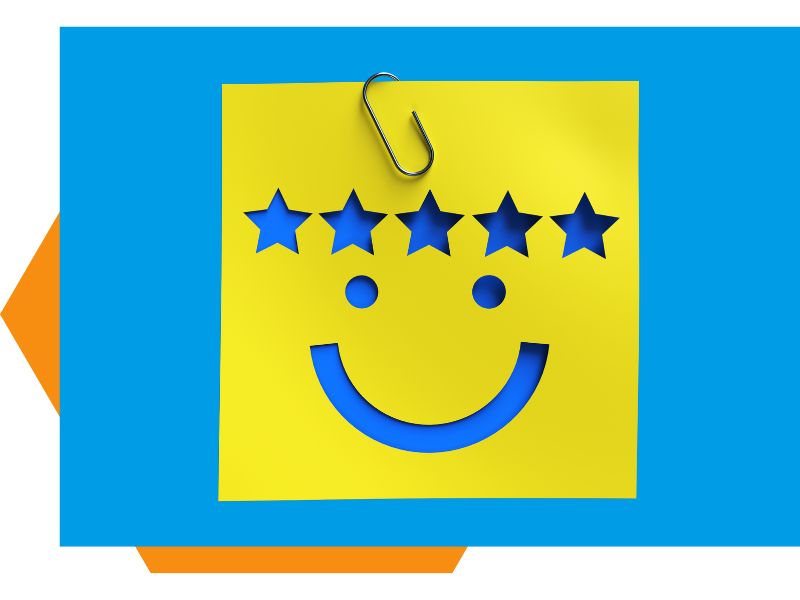 Delight Your Customers
Your brand isn't just your logo. It's your reputation. It's how you answer the phone, how your drivers interact with customers, how you service jobs, the invoice you send your customer, and so much more. ServiceCore helps you provide excellent customer service because your team will have all of the answers at their fingertips.
Empower Your Staff
You've worked hard to hire and retain amazing people. When you give them a tool like ServiceCore, it frees them of duplicate data entries and helps them communicate better as a team. ServiceCore helps your staff cut wasted time and increase productivity. It's a win, win.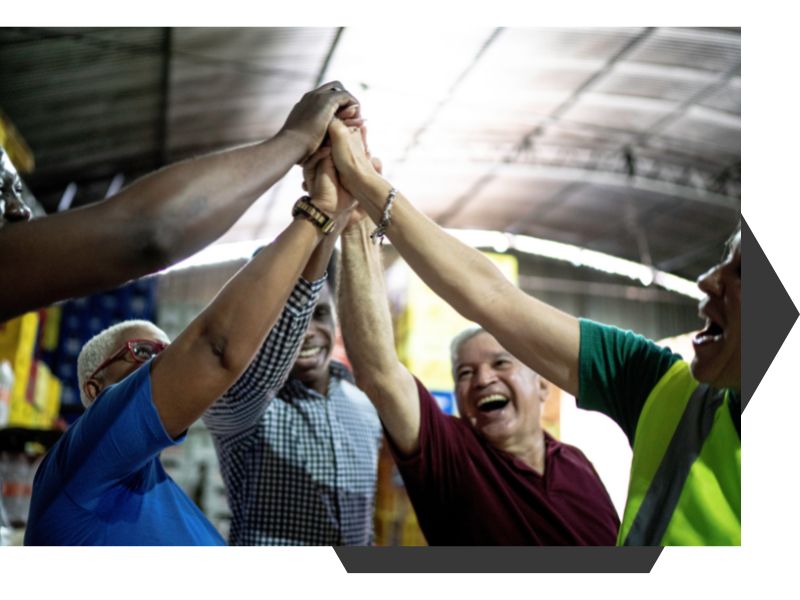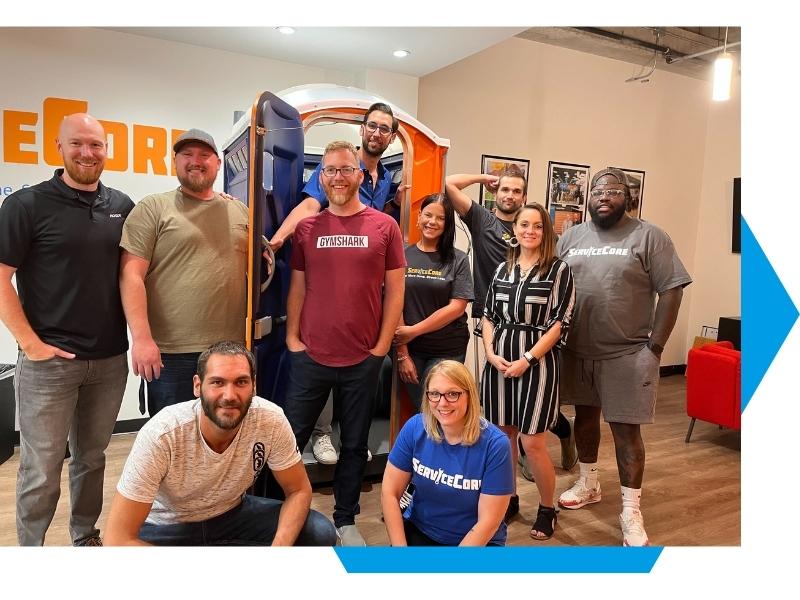 Former Operators Work Here
You may be thinking, how can a software company understand my business? Well, it's because our people are your people. We've hired former operators that understand your challenges. They know what it's like to adjust routes when a driver calls out sick. They know the headaches that come with billing your customers and collecting payments. And they know how ServiceCore made their lives easier and their businesses more productive. When you sign up with ServiceCore, our former operators are with you every step of the way!
Frequently Asked Questions
Who is ServiceCore built for?
ServiceCore is a tool built specifically for septic, grease, portable restroom rental, and roll-off rental operators. It's best for operators that have multiple routes and are interested in growing their business. ServiceCore cuts wasted time, manages jobs, optimizes routes, tracks inventory, and automates billing. Get a demo to learn more.
How do I know if ServiceCore is right for my portable restroom business?
If you're a portable restroom operator that runs multiple trucks and is interested in growing their business, ServiceCore is right for you. Most of the portable toilet businesses that use ServiceCore have grown their business to a point where they outgrew spreadsheets and manual tasks and needed a better solution. ServiceCore cuts wasted time and makes every area of your business more efficient and productive.
How can ServiceCore help my portable restroom rental business get paid faster?
Most ServiceCore customers drastically reduce their billing time from a couple of days a month to something they can do over coffee each morning. On top of that, customers reduce past due invoices to nearly zero, provide better reports to owners, and regularly save money on their credit card fees along the way.
How does ServiceCore optimize my liquid waste routes?
ServiceCore looks at your drivers, schedules, and jobs to determine the most efficient routes. Most portable restroom rental businesses that use ServiceCore reduce fuel costs and are able to add extra jobs to each route based on the efficiencies gained from ServiceCore's route optimizer.
How do I get started with ServiceCore?
The best way to get started with ServiceCore is to
schedule a demo
or call our ServiceCore sales line at 1-844-336-0611.
Is ServiceCore compatible with QuickBooks?
ServiceCore is compatible with QuickBooks and offers two-way data synchronization. We are fully equipped to support data migration to ServiceCore. Our data specialists can also help you with data migration from other software platforms.